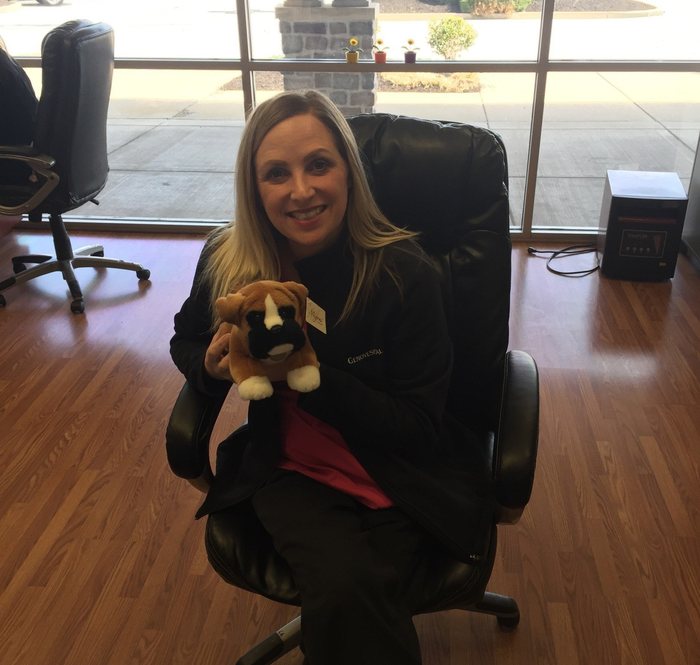 Meet Lisa Genovese
Lisa is Genovese Dental's Financial and Marketing Coordinator. She was born and raised in St. Louis, Missouri. Lisa has worked for
Dr. Genovese since she was 19 yrs. old. She has found her permanent position here in January 2016. She is proud to find that her voyage through college has prepared her for her position here today.
Let's get to know your coordinator:
Lisa has a gift of making those around her feel comfortable. Her "good moods" can be infectious. When Lisa is smiling, she is smiling mostly about her pets. Riley, the boxer, Stratton and Merlin, the cats. She loves animals so much that since 2015 she continues her work as part time help at a local veterinarian's office.
When Lisa has time, she spends her summers boating, skiing, or riding her sea-doo. She loves to entertain. So, when in for your appointment, feel free to ask her if you can join in the activities.
Lisa is guaranteed to make your visit to Genovese Dental a pleasant one. Lisa "has grown up in this place. The Staff and Patients are definitely my 2nd family".
"Lisa Genovese"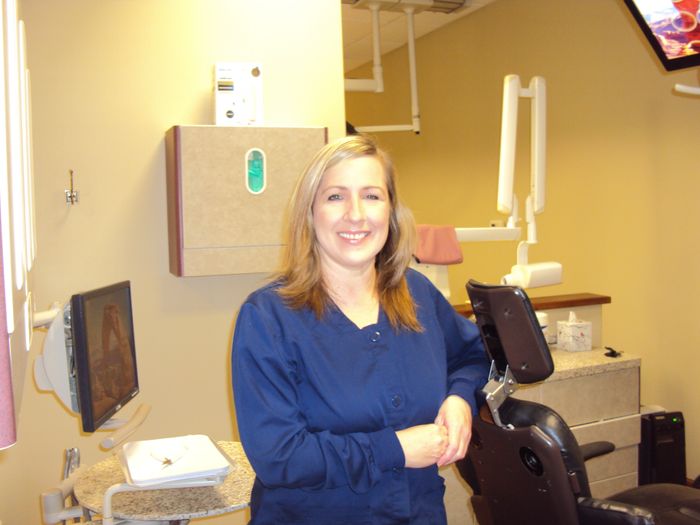 Meet Debbie Roussin
Debbie is was one of Genovese Dental's Dental Assistants. Debbie has now expanded her functions and has joined the "front desk team". Debbie was born and raised in St. Louis, Missouri. Since the young age of 18, Debbie has been in this field and working for Dr. Genovese. With all Debbie's clinical education, she is an asset to the Genovese Team. Debbie is particularly good at connecting with all patients. She enjoys helping each one with any questions or concerns they may have.
When Debbie is not working at Genovese Dental, she is enjoying her friends, family, and her two adorable yellow Labradors.
Call for your appointment with Debbie and Dr. Genovese today. She is here to "help you get that Genovese Smile".
"Debbie Roussin"
Meet Alyson Walton
"Aly" is one of Genovese Dental's Hygienists. Aly was born and raised in Troy, Missouri. Before joining the Genovese Dental Team, she attended St. Louis Forest Park College for Hygiene. Aly has proudly worked for Dr. Genovese for over 15 years. She will be a great help in your preventative care.
As for a few fun facts about your hygienist:
Aly has the gift of gab. She loves to talk and connect with her patients. If you love Cardinals baseball, you will have a friend for life. During your visit with Aly you will see a lot of Cardinal memorabilia. Pictures with players, autographs, bobble heads, and possibly her academy award (feel free to ask about it). When Aly isn't working at Genovese Dental, she is seeking out the Cardinal players for autographs or at home "pretending to cook".
Make your appointment today with Aly. She will welcome you with open arms to a place "where everyone gets along".
"Alyson Walton"